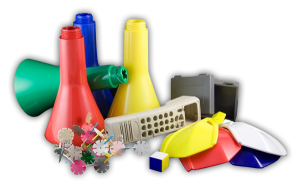 Quick turn around time from low cost tooling
Injection Molded Parts
Plastic, Metal & Rubber Injection Molding Company
For prototypes or small quantities of production parts
Quantity – from 3 parts and up
Average cost per part is from $4.00 to $8.00 – based on quantiies from 3 to 100 pieces
Average tooling price is from $3,000 to $6,000
Average time to produce your parts – after receiving your 3d cad file is 2 weeks (or less with an upcharge).
These are true injection molded parts – which can be used for:
Initial production requirements
Refining your design
Functional testing during development
Testing various materials
Production parts due to urgent time requirements
We can be of service from design – to prototypes – to production
Design – let our experienced injection molded engineers work with you in designing your model part and in producing your 3d cad model file. This includes fasteners or hardware selection used to assemble parts. Mold design, fastener selection and assembly procedures are key when determining cost cutting methods.
Prototypes – from your 3d cad file, we produce true injection molded parts. We can quote you within 3 to 4 days after receiving your 3d cad file.
Production – let us work with you – to evaluate your production quantities – to enable us to give you your lowest unit price. You should also know that your prototype aluminum tooling is ensured for the life of your project.
Also, see our Prototype Printed Containers capabilities.